Fall Sports Update
Thank you to all the students who are trying out for our fall competitive sports.  Team information will be sent to family emails as soon as rosters are formed.  We appreciate your patience! 
Also, we look forward to seeing students from all grades at our first day of intramurals, this Wednesday, September 6th.  We will be playing ultimate frisbee and will have some prize giveaways!  
---
Competitive Team Updates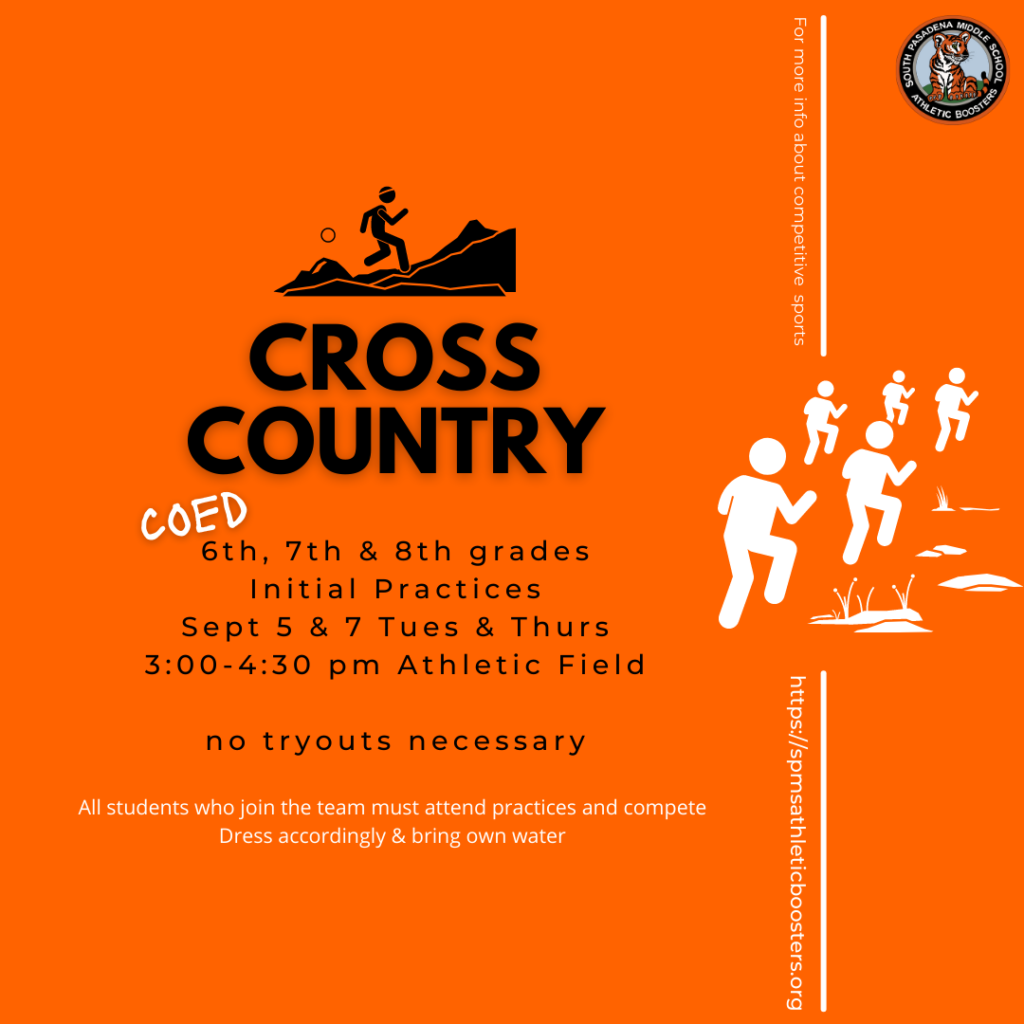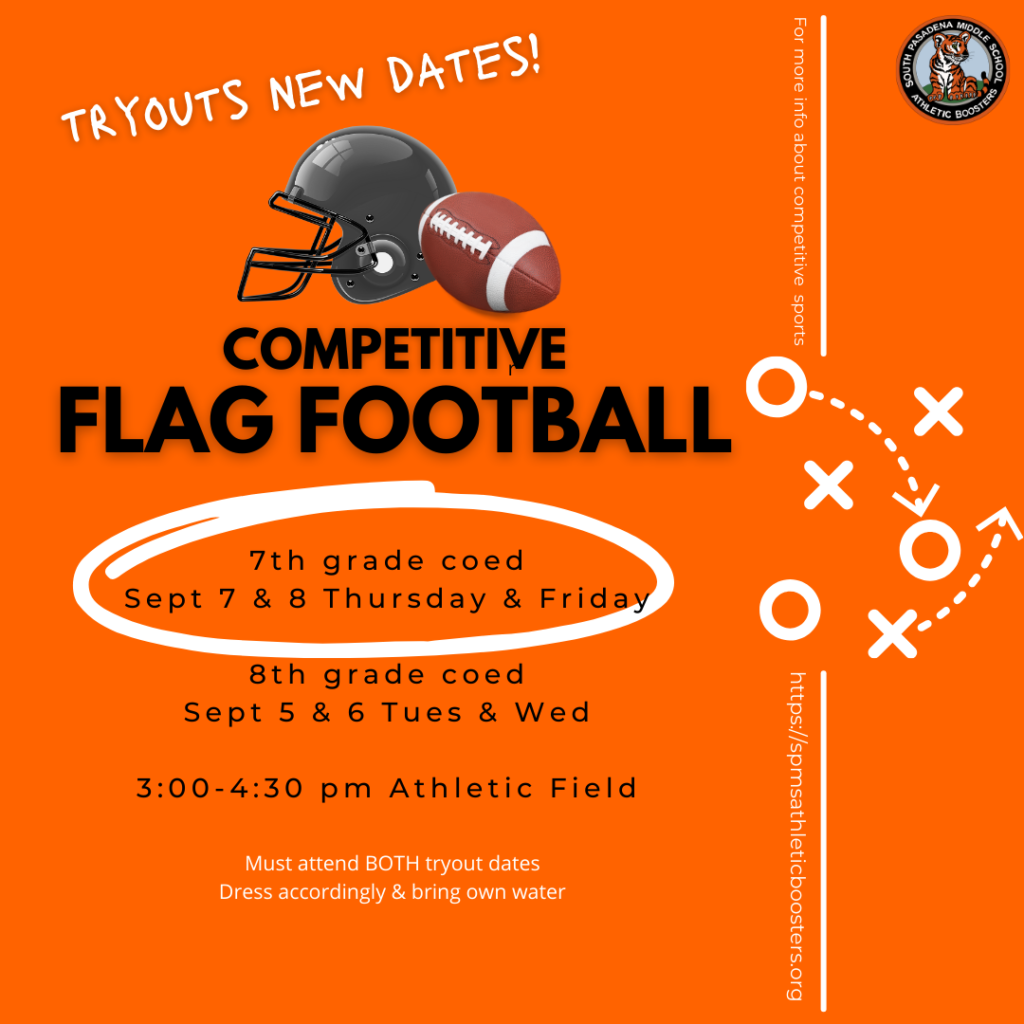 Some reminders:
Students must attend BOTH tryout dates to be considered for the team.
Regarding Cross Country: Although there are no tryouts, students who join must be willing to run for the entire practice and also must be willing to compete in meets.
Have your student dress for the weather and and bring their own water.
Team schedules and coach availability will be determined very soon! Bear with us, and stay tuned for more information.
Families, please keep in mind that we  have a very limited number of available spots on competitive teams and an outpouring of students interest. Many students will NOT make the team. We know it can be disappointing! We appreciate your understanding and encourage students to participate in  intramurals sports which has room for all.
---
Intramurals Begin 9/6/2023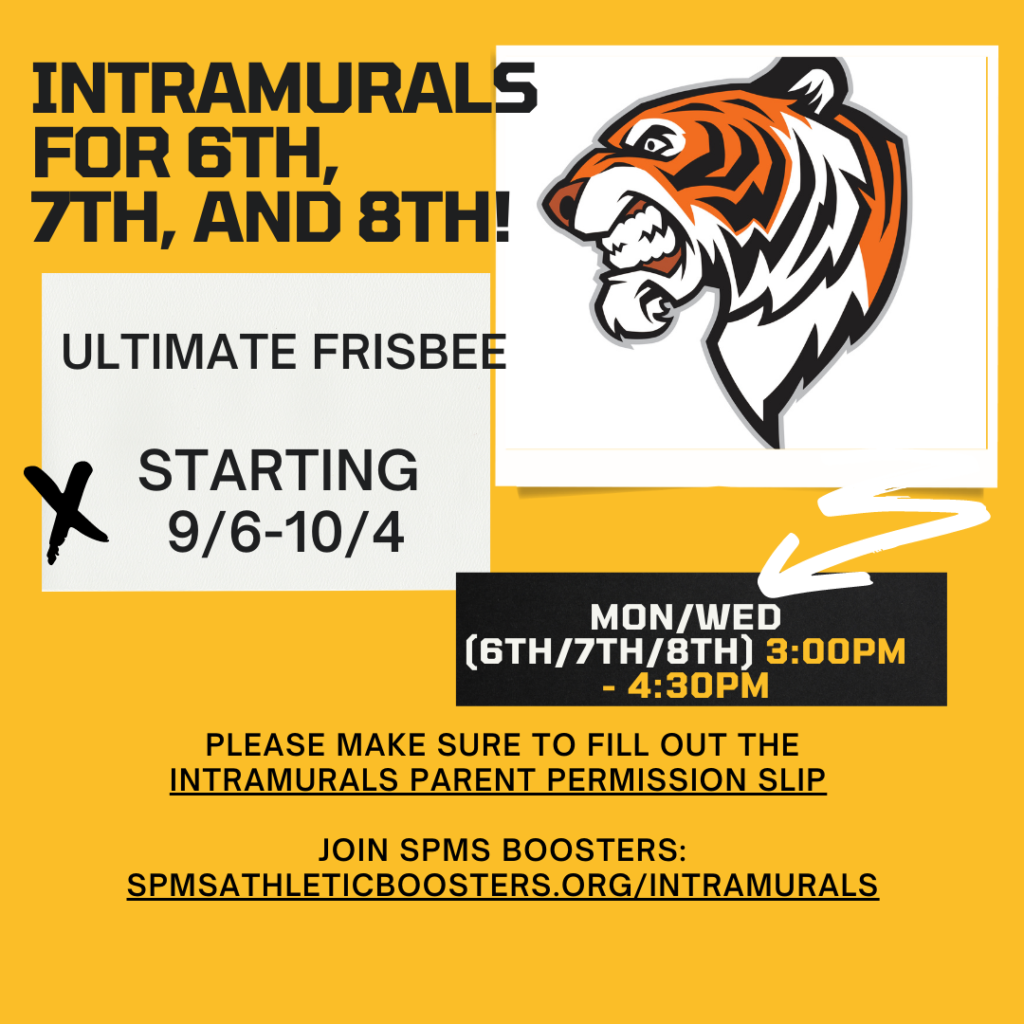 Intramural ULTIMATE FRISBEE for 6th, 7th and 8th kicks off WEDNESDAY!  **Come join us for prizes and give-aways!**
Please make sure to fill out the Intramurals Parent Permission Slip
And remember join SPMS Boosters!
Please remind your student to dress accordingly and to bring their own water bottles.
---
Welcome New Board Members
Our Athletic Booster Club's Board of Directors is made up of an Executive Board and a number of additional Directors.  At our August 2023 meeting, the Executive Board elected the following Directors to fill out our board.   
Membership Chair: Brian Samuels
Fundraising Director:  Rachel Brabaw
Sponsorships Chair: Jennine Robinson
Teams Coordinator: Susan Yoshimura
6th Grade/Intramurals Coordinator: Gina Wilson & Andres Phippard
Communications Chair: Sarah Kovatch
Bylaws & Legal Affairs: Erik Gammell
All City Track Meet Snack Bar Chairs: Laura Kistner & Debbie Dorny
Thank you to those parents for volunteering their time and energy to support our school and club!
---
Join SPMS Athletic Boosters
Not already a member of Athletic Boosters? Membership is strongly encouraged for families participating in competitive sports.  Your dollars help pay for coaches, uniforms, equipment, and much more. Join and donate HERE. Do you work for a company that will match your donations? Contact our matching gifts email for more information: [email protected]
---
Upcoming Games and Matches
9/12/2023 7th Grade Flag Football v. Foothills (HOME) 3:30pm
9/14/2023 8th Grade Flag Football v. Jefferson (AWAY) 3:30pm
9/19/2023 7th Grade Flag Football v. La Cañada (AWAY) 3:30
9/21/2023 8th Grade Flag Football v. La Cañada (HOME) 3:30pm
9/26/2023 7th Grade Flag Football v. Santa Fe (HOME) 3:30pm
9/28/2023 8th Grade Flag Football r v. Huntington (AWAY) 3:30pm
10/3/2023 7th Grade Flag Football v. Huntington  (AWAY) 3:30pm
10/5/2023 8th Grade Flag Football v. TBD  (TBD) 3:30pm
10/10/2023 7th Grade Flag Football v. Jefferson (HOME) 3:30pm
10/12/2023 8th Grade Flag Football v. TBD  (TBD) 3:30pm
10/17/2023 7th Grade Flag Football v. Clifton (AWAY) 3:30
10/24/2023 7th Grade Flag Football v. First Ave (HOME) 3:30
---