Upcoming Games and Matches
1/31/2023  Girls Varsity Soccer v. Odyssey (HOME), 3:30-4:30pm
2/9/2023 Boys Varsity Soccer v. La Cañada (HOME), 3:30-4:30
2/9/2023 Girls Varsity Soccer v. La Cañada (AWAY), 3:30-4:30
2/16/2023 Boys Varsity Soccer v. Huntington (AWAY) 3:30-4:30
2/16/2023 Girls Varsity Soccer v. Huntington (HOME) 3:30-4:30
2/21/2023 Boys JV Soccer v. Clifton (HOME) 3:30-4:30
---
Last Week's Scores
1/25/2023  Boys Varsity Soccer v. Oak Ave. (W) 4-1
1/26/2023  Girls Varsity Soccer v. Oak Ave. (L ) 2-1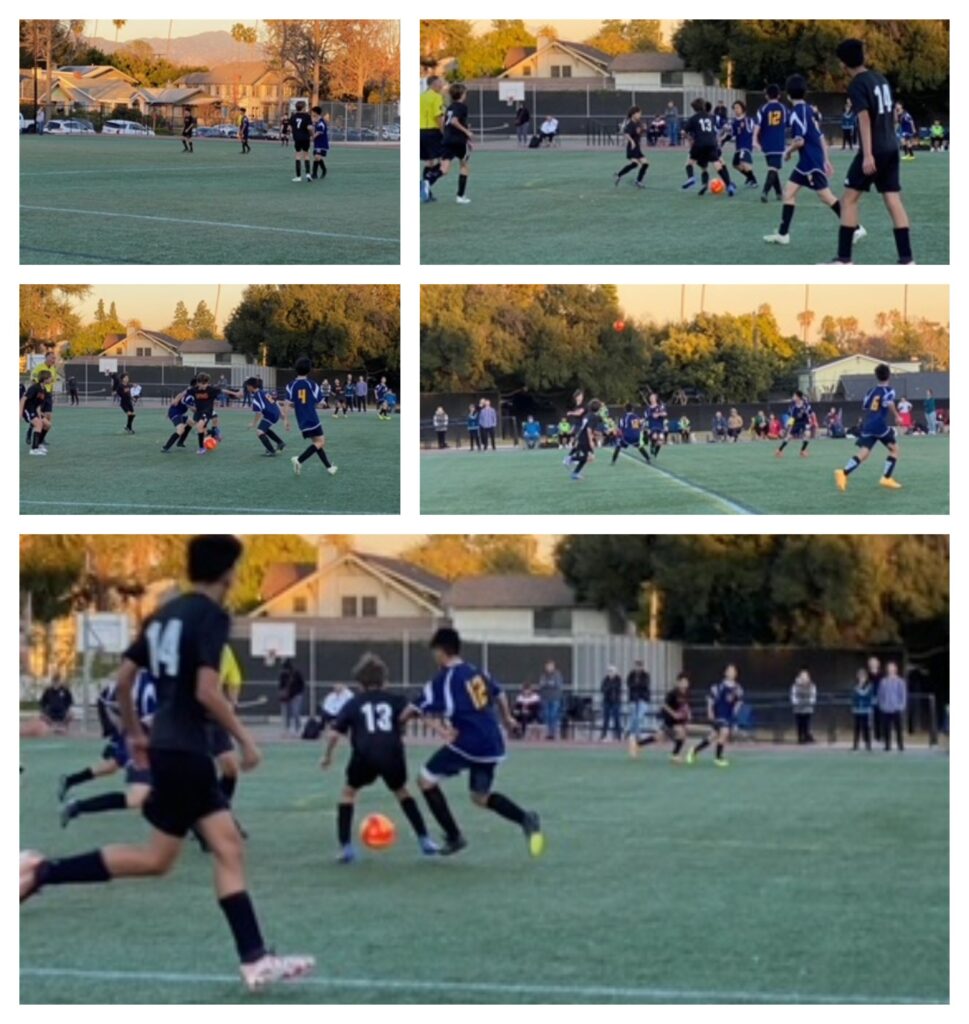 ---
SPMS Family Day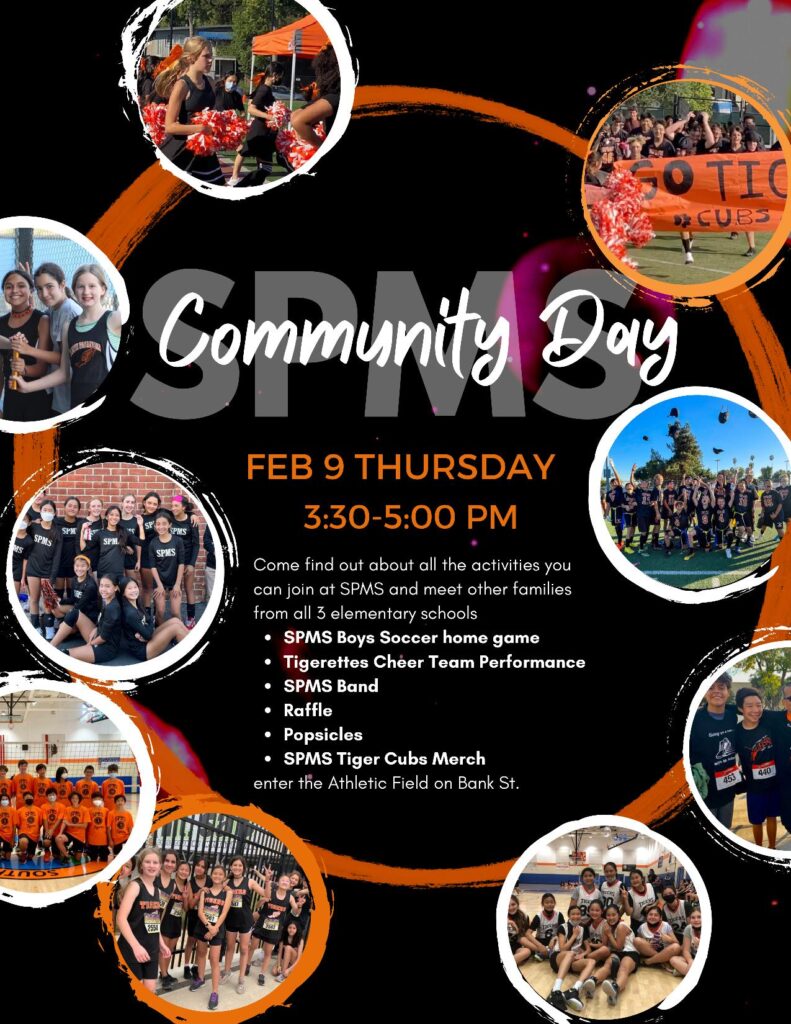 Calling all elementary school families: Join us for a sneak peak into what you can expect to find through SPMS athletics & activities! Watch and cheer for a home soccer game, enjoy entertainment from the band and cheer squads, and try your luck in the raffle. All families and students are welcome to participate, but this event is a "must see" for incoming 6th graders! We can't wait for you to join our Tiger Cub family!
---
8th Annual Poker Tournament: 3/11/2023
---
Join SPMS Athletic Boosters
Not already a member of Athletic Boosters? Membership is strongly encouraged for families participating in competitive sports. Your membership supports  Join and donate HERE. Your dollars help pay for coaches, uniforms, equipment, and much more. Do you work for a company that will match your donations? Contact our matching gifts email for more information: [email protected]
---
Merchandise Sales 
Sports are underway! This is a great time of year to re-up your SPMS spirit wear! SMPS tees, sweatshirts, hats, are great for practices, PE class, and everyday style. To buy your new threads, scan the QR code below or CLICK HERE!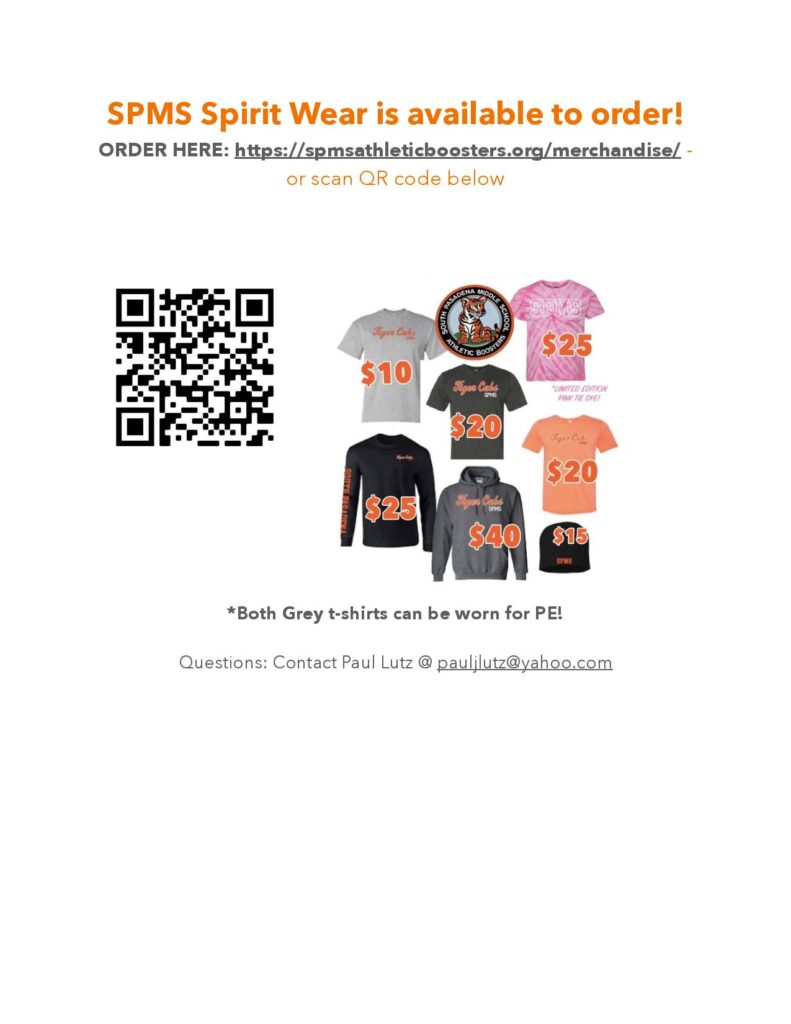 ---